VeloOne Aras – Prototype
Technical specifications:
Total length – 208 cm
Total height (from ground to top of the seat) – 86 cm
Total width – 73 cm
Wheel base – 110 cm
Front and rear track width – 66 and 64.5 cm
Seat height from ground – 32 cm
Weight – approx. 40 kg
Trunk height from ground – 14 cm
Battery LiFePO4 – 10 ah, 36 V
Rear wheel pedal and electric drive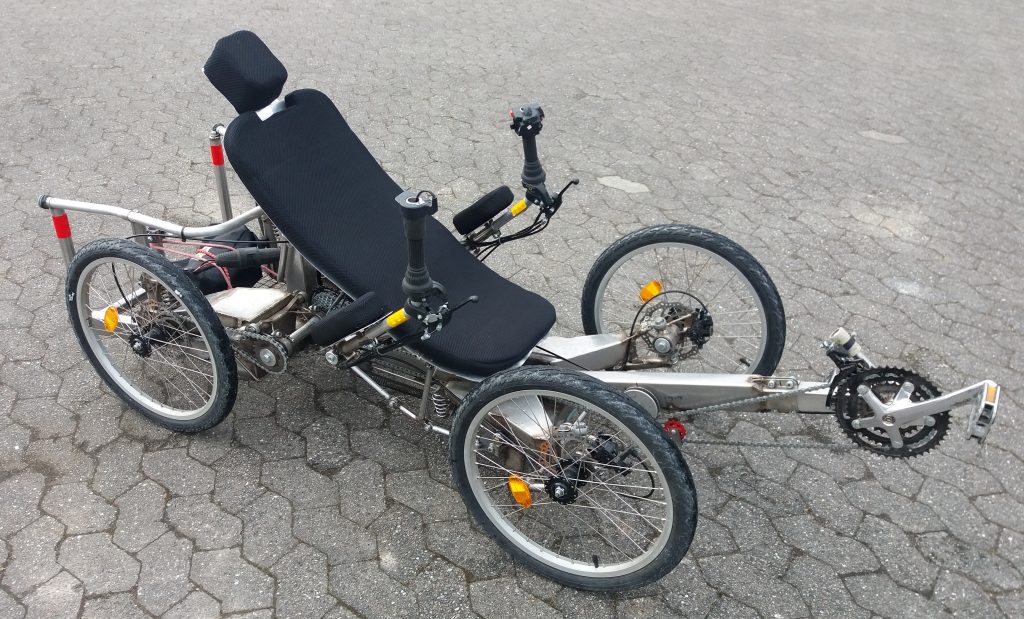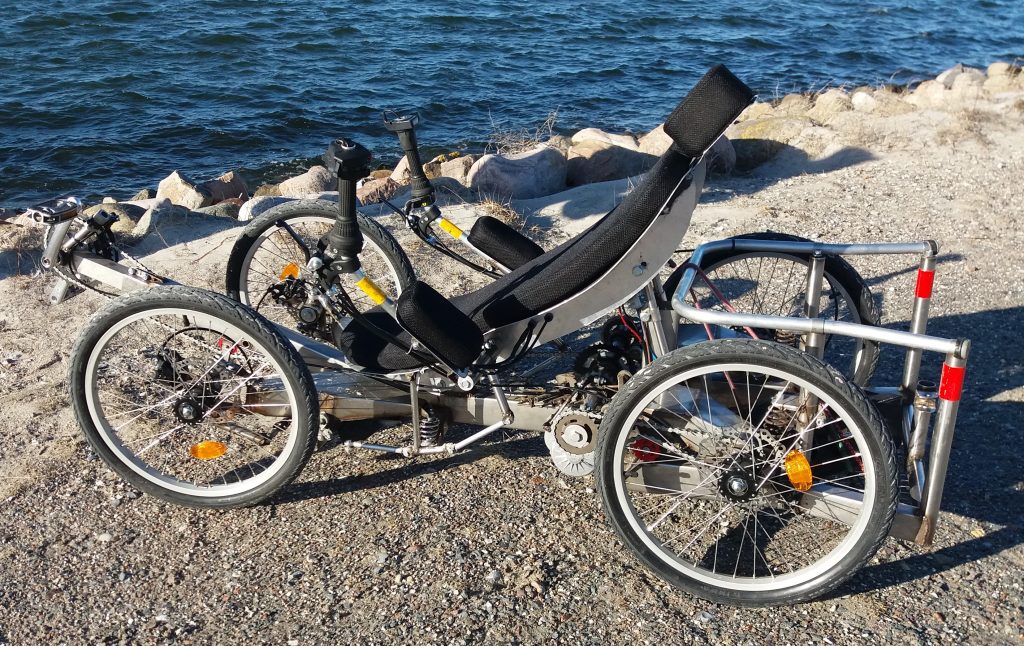 Features:
4-wheel suspension, very comfortable and smooth ride and drive
4 disc brakes
3 front speeds + 7 rear speeds
Big back trunk for load up to 45 kg
4 wheels with 20 inch double frame rims for stability
Electric motor separate from the main power line, so it is easy to pedal without electric assistance.
4 cm thick special foam seat for comfortable ride
Connection for a custom-made trailer
Stainless steel frame, specially made parts for long life service and easily changeable wear parts. Long lifetime period.
Ergonomic seat and hand positions for long distance ride without any fatigue.
Vertical parking and storing position for saving space.
Possibilities:
Trunk and velomobile can be loaded up to 150 kg
Velomobile Aras can reach up to 25 km/h speed with pedaling and electric power assistance
Up to 2 kids can ride on the seat mounted at back of the velomobile
Big box for goods, post items could be mounted at back
Tool box or shopping basket could be mounted at back
Extra custom-made trailer could be attached
Fast cornering available thanks to full suspension
Can drive in narrow spaces because of narrow wheel track
VeloOne Aras allowed to drive on bike roads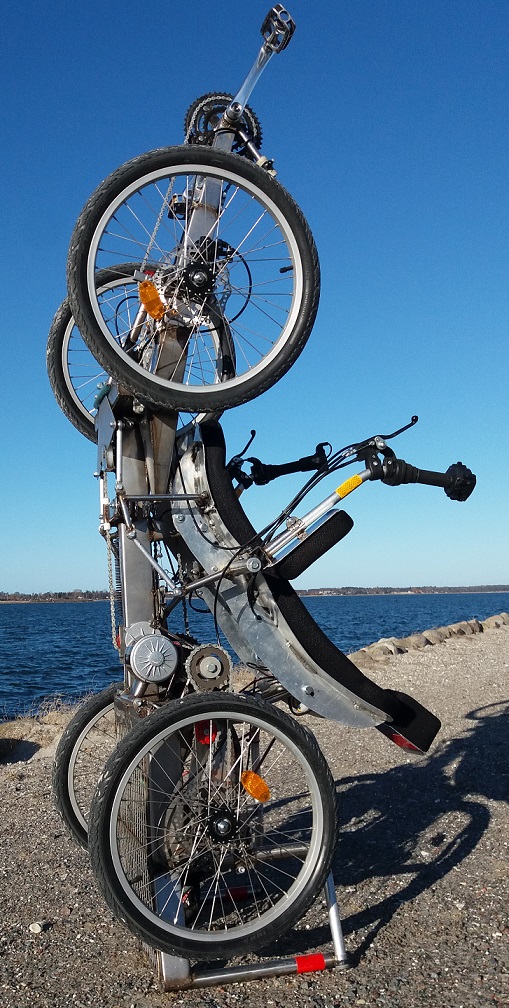 Options:
Seat for kids (a seat for 2 or 4 kids could be mounted).
Box for postal service, small business or for other purpose.
Special model with possibility of heavy (up to 350 kg) and big loads (depends on needs). The velomobile could be equipped with 4 or 6 wheels for special loads.
Custom-made model for the purpose of sports – ultralight, without electric motor and with low rider position. Velomobile could be used in pedal car races or in solar races.
It could be an everyday commuter in the city or countryside. Roof and side fairings available as an option.
Special model for off-road ride with high suspension, special tires and custom-made frame design.
Clear polycarbonate shell as fairing for weather protection and better aerodynamics.
Front-wheel drive or 4-wheel drive (front-wheel pedal drive and rear-wheel electric drive).
Tandem 4-wheeler or tandem using extra trailer with pedal drive (6 wheels unit with extra cargo space on 4-wheeler). Tandem trailer could be adjusted for adults and kids.
VeloOne Aras can comply with European standard EN15194 (EPAC – Electrically Power Assisted Cycles) for pedelec. Can drive on regular bike routes, no driving license needed.
VeloOne can be made as L 1e-A or L 1e-B type of vehicle (L 1e-A "powered cycles" – power up to 1000 watts and power cut out at 25 km/h. L 1e-B "mopeds" – power up to 4000 watts and speed up to 45 km/h).
VeloOne for special purposes according to client's requests (any ideas are welcome).