VeloOne CARGO 2.0 velomobile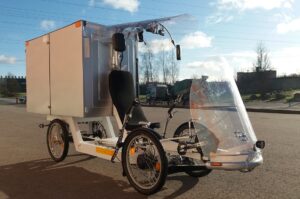 VeloOne CARGO 2.0 velomobile is ready for orders. In 2021 we are planning to start selling serially produced VELOONE CARGO 2.0 – it will be a series-manufactured product, with some small changes in comparison to VELOONE CARGO PROTOTYPE. For our potential clients we offer a possibility to adapt our velomobile in accordance with the requirements determined by the intended purpose of the ordered vehicle. Being a small company gives us enough flexibility of going into a dialogue with the client regarding necessary modifications. Therefore if you feel serious about using VELOONE CARGO in your business, do not hesitate to contact us and we will discuss and find the most suitable solution – because we believe in the value of making future cities cleaner.
Who are potential users of VELOONE CARGO 2.0: last mile delivery companies, couriers, food delivery and car-sharing companies, businesses that need to drive in the green areas of cities and all other undertakings and personal users who care about environmental impact, CO2 reduction, healthy life style, those who need to go where cars are not allowed but bikes cannot carry as much load as needed and all others who like the idea.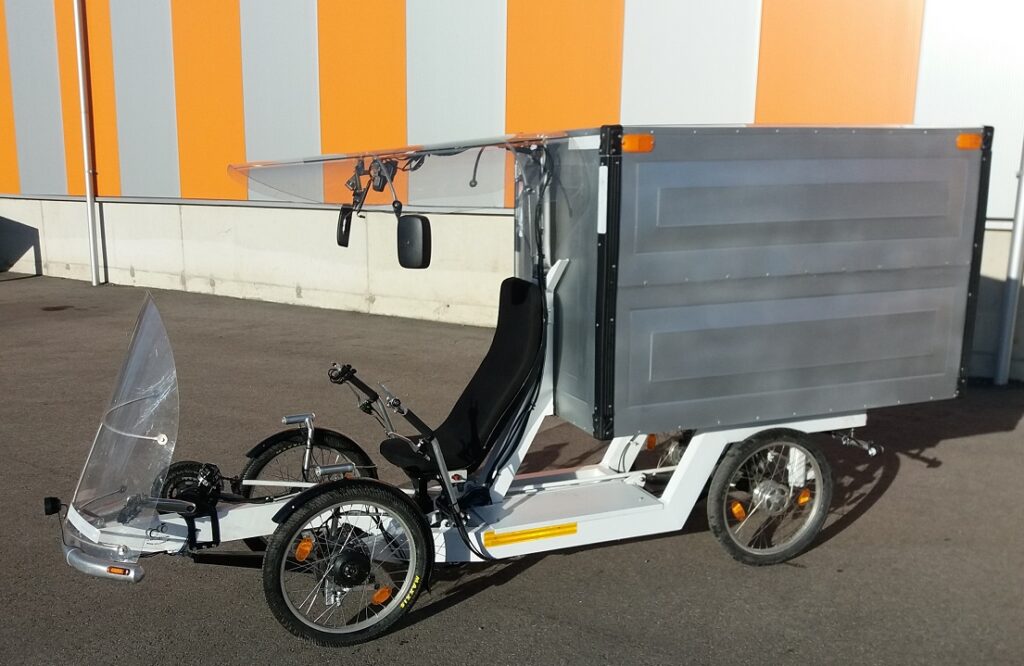 So our basic VELOONE CARGO 2.0 will be made from aluminium frame, stainless steel chassis, will have full suspension, longer and wider top roof, shorter, but wider cargo box.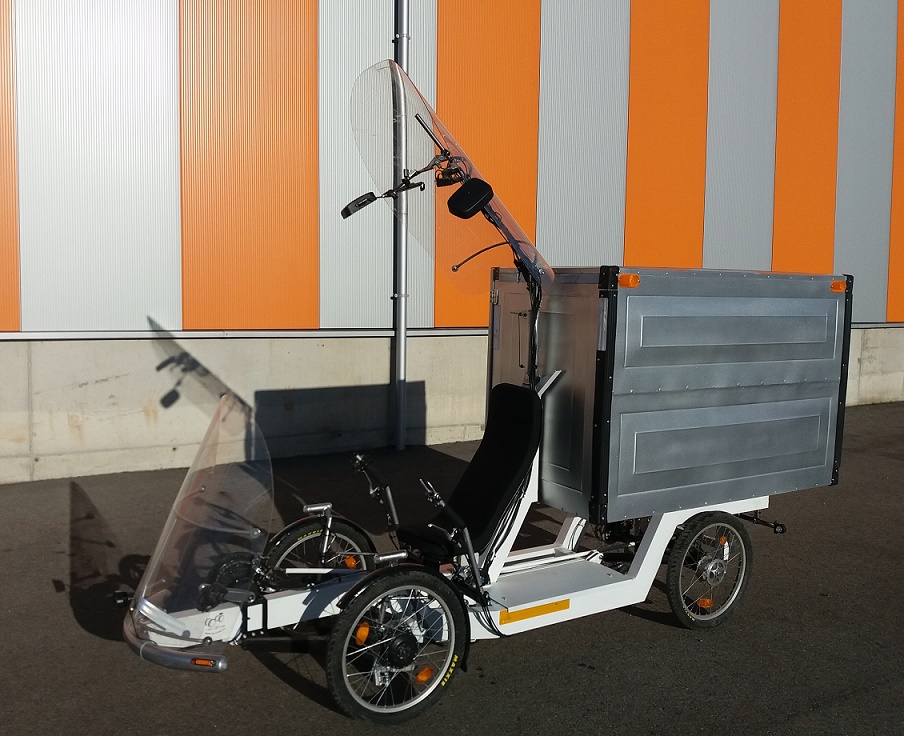 VELOONE CARGO 2.0 technical information:
Length – 300 cm with cargo box, width with big mirrors is approx. 85 cm, height – 152-160 cm.
Weight with cargo box is approx. 100 kg. Maximum curb weight can be 280 kg (restricted by tyres, not the construction). Cargo weight could be approx. 80-100 kg, depending on driver's weight.
Length of cargo box is 130 cm, width 85 cm, height 96 cm. Inner space is approx. 1 m3.
Driving range with electric power assistance and normal pedalling is approx. 30-35 km with one battery or 60-70 km with two batteries.
Chain transmission will have 3 front + 7 rear speeds, 21 speeds in total or it will have 1-2 front speed(s) and 9-11 rear speeds.
One front 250 W power hub motor works as electric power assistance system and drives only when pedalling.
Batteries – 2 Li-ion batteries are 10.4 ah 36 V and 374 Wh power each, both batteries have total power of 748 Wh. It is possible to use the battery of your preference by pressing the switch. Integrated charging system charges both batteries at the same time. Batteries are locked in the special safe box to prevent theft. Besides, removable batteries can be installed as an option making it possible to charge them separately from the velomobile at home or in the office. Li-ion batteries are regular electric bike batteries, so they are reliable, cheap and easy to change.
Seat is made from aluminium and special foam with mesh fabric padding. Seat will be of recumbent type.
Steering is carried out with two steering bars next to the seat. Steering and seat make ergonomic and comfortable working zone.
All wheels will be made of a die-cast magnesium alloy, 20 inches diameter. One front wheel will have 250 W power hub electric motor.
All wheels will have hydraulic disc brakes and rear wheels will have a parking brake.
The frame will have antitheft chain lock ring for long time parking.
Front wheels will have wide mudguards and integrated hand bars with side lamps (white and red) on the top.
Frontal part of the velomobile will have main light and two turning lights on the safety bumper. Rear part will have side lamps and two turning lights as well as a stop light. Also, velomobile will have white and red side lamps on the front wheel mud guards' hand grips. All lights work with main batteries, the system has 36 to 12 V inverter or it can have a separate 12 V battery which will be integrated in the overall electric system.
VELOONE CARGO 2.0 will have a full 4-wheel suspension with springs and custom made dumpers and stabilizers.
Top roof will be made from aluminium or stainless steel frame and PET-G plastic glass. It will be up to 90 cm wide and longer than it is on the prototype. The roof will feature an electric assistance system display – 1 pc, and it will have a space for a cell phone or GPS, so driver could see full information. Front wind shield will be up to 90 cm wide and approx. the same length as on the prototype. It will be easily opened by the push of the hand.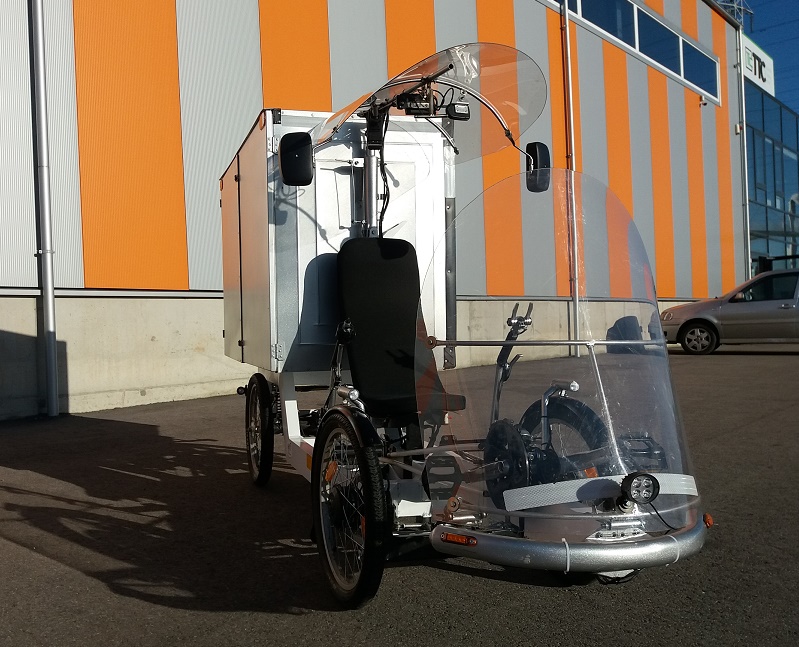 PRICE:
VELOONE CARGO 2.0 price is 5995 eur + VAT and shipping.
Before we start the order, we want to receive 50% down payment to bank account, other 50% must be paid before velomobile will be shipped to customer.
Production time at the moment can be up to 6 months, but the time can be shorter as well. If you have special time request, please contact us.
For different CARGO 2.0 configurations or bulk orders, for dealers the price will be different, please contact us for special orders.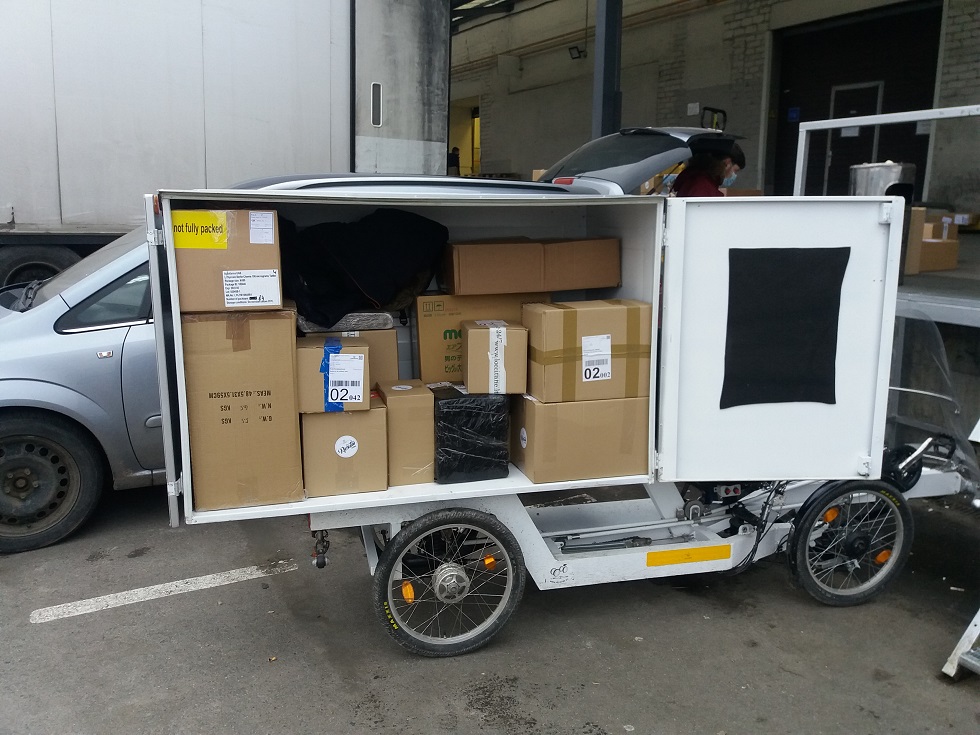 VELOONE CARGO PROTOTYPE driving experience.
The VELOONE CARGO 2.0 will be very comfortable and safe to drive. Driver will sit on the recumbent seat and will have steering in ergonomic position, so s/he will not get tired and will not get any pain after a long drive or full work day. Ergonomic features will be the same as in our prototype, it is tested and works great, so we will keep using the same system. It will be a safe vehicle as much as it is possible, because the construction of the suspension makes it almost impossible to turn over even driving at fast speed. It will also be equipped with passive safety solutions: front aluminium bumper – for the protection of pedestrians and other parts of velomobile, safety seat-bar – for the protection of the driver in case of the roll-over of the velomobile. Despite being a cargo bike level transport the velomobile will have all necessary lights and reflectors' system: side lamps, turn signals, front light, stop signal, so drivers on the road and other cyclists or pedestrians will be able to see manoeuvres and VELOONE. Talking about driving safety it will have big rear-view mirrors for clear visibility of the rear view of the velomobile (all lights and mirror systems will be similar to the tested ones on the prototype, if not changed by the customer's requirements).
VELOONE CARGO 2.0 will drive at maximum 25 km/h speed with electric power assistance. Of course, the driver will be able to reach unlimited speed exceptionally by pedalling. Maximum speed of electric power assistance will be 25 km/h and then it will be cut off in accordance with the EU requirements.
It will be easy to get in and out of the velomobile – of course, a few tests of doing that will be necessary to get used to the new vehicle. The best access will be via gap between the front wheel and the bumper, simply by opening the front wind shield and lifting the top roof. The top roof and the front shield will protect the driver from the rain, snow and front wind. The top roof can be black shaded, then it will protect the driver from direct sun light. The front wind shield and the top roof will be made from PET-G plastic which is durable and robust material.
The cargo box has doors on the side of the box, because it is the fastest way to reach box's inside for couriers, also it is the safest position to work on the side-walk or regular streets and roads.
The VELOONE CARGO 2.0 can legally drive on roads, side-walks and bike paths, because it is produced in compliance with EU Bike standard EN15194:2017, so the driver can choose the best and fastest driving method.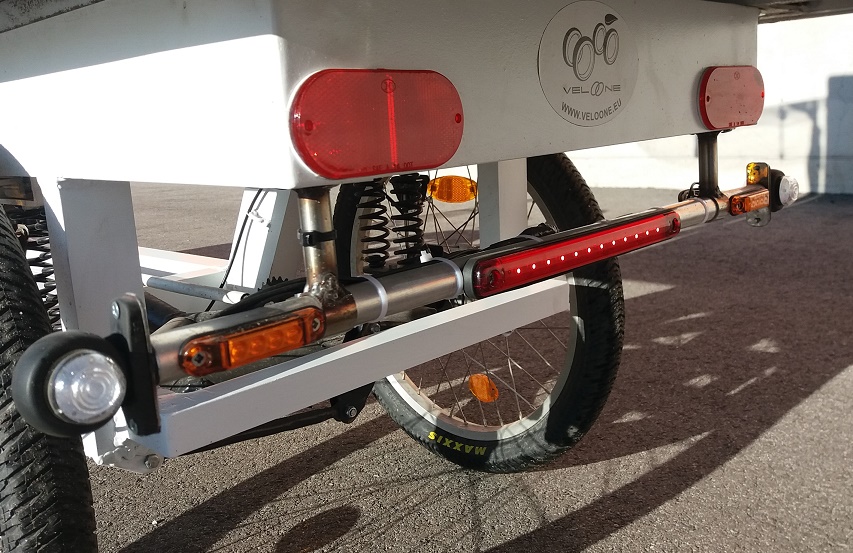 Possible options for VELOONE CARGO 2.0
We understand that different business sectors may need different solutions, so we are ready to make special options and custom-made solutions. The list below is non-exhaustive:
– Solar power panels on the cargo box. The cargo box's roof size should be approx. 1 sq. m, so it can fit approx. 150 W power solar panel meaning that 150 W power * 4 sunny hours produce approx. 600 W of power. Therefore it is possible to charge the batteries on the road. Of course, it will add more weight on the velomobile.
– Smaller or bigger cargo box. We can make it according to the client's preferences.
– Platform instead of cargo box.
– Children seats with small cargo place.
– Children seats with a roof and small cargo place.
– Extra semi-trailer instead of a box. That would provide more volume for the box and increase cargo lifting capacity up to 200 kg.
– Ice cream box or machine, coffee machine and etc.
– Insulated box or freezer.
– Passenger's seat – similar to rickshaw – for taxi or Uber, or other similar business.
– Food containers for food delivery.
– Empty velomobile chassis (without a wind shield, top roof, box, lights and etc.) with a possibility for the client to create unique body.
– Any other possible options.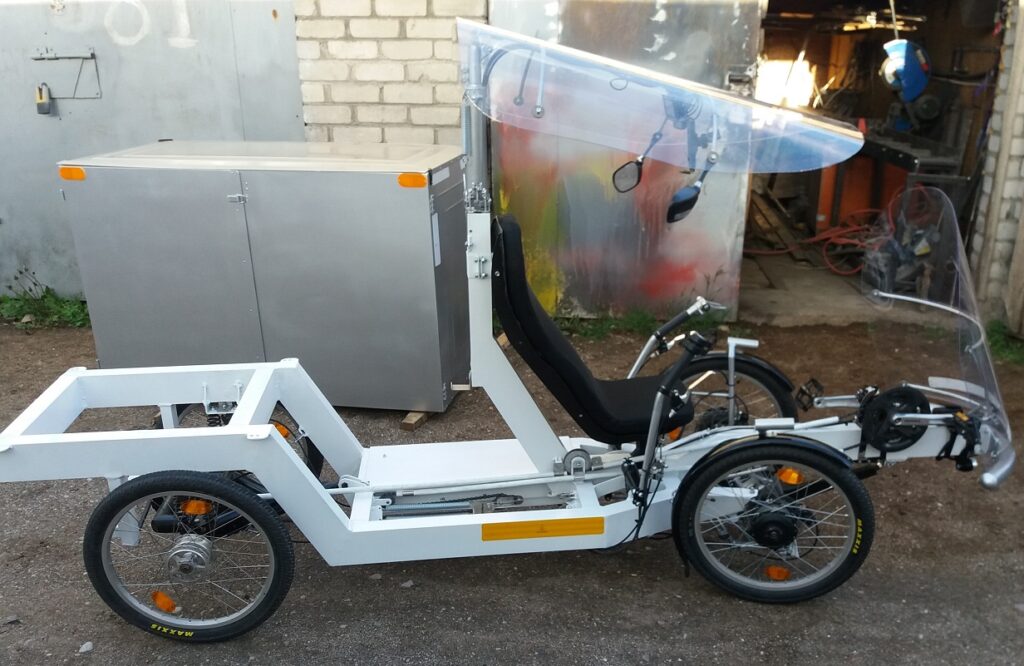 VELOONE CARGO 2.0 compared with VELOONE CARGO PROTOTYPE
We have manufactured a prototype and now are planning to start serial production. Still we want to demonstrate the differences between these two velomobiles, so the client could see the prototype's pictures and understand what could be different.
| | | | |
| --- | --- | --- | --- |
| Details | VELOONE CARGO PROTOTYPE | VELOONE CARGO 2.0 | Conclusion |
| Frame | Aluminium tubes' frame with higher front part, without roll-over bar. | Aluminium tubes' frame with some changes in configuration: front bar will be lower, will have integrated roll-over bar, different seat frame system. | VELOONE CARGO 2.0 will have better get-in access, stronger frame system. |
| Brakes | Front disk brakes, rear drum brakes. All-mechanical system. Integrated parking brake. | All 4 disk brakes with hydraulic system. Integrated or separate parking brake. | Better braking abilities. |
| Wheels | Spoke wheels with hub motors in the front and hub drum brakes in the rear. | Die-cast magnesium alloy or die-cast aluminium alloy wheels with one hub motor and 4 disk brakes. | Better design and stronger wheels, can accept more load and bums. |
| Seat and steering bars | Recumbent aluminium seat with special foam and mesh fabric padding and steering bars close to driver's side. | Recumbent aluminium seat with special foam and mesh fabric padding and steering bars close to driver's side. | Good system, keep using same. |
| Lights and signals | Front main lamp and front turn signals on the safety bumper, rear lamps on special extra bar. Extra side lamps integrated in the mud guards' hand grips. | Front main lamp and front turn signals on the safety bumper, rear lamps integrated in the main frame. Extra side lamps integrated in the mud guards' hand grips. | Almost the same system in both, but VELOONE CARGO 2.0 will have different rear lamp integration. |
| Chassis | Front chassis is made from stainless steel, rear chassis is made from steel and has "Samagaga" differential. | Front chassis will be made from stainless steel, rear chassis will be made from stainless steel, but it will have some different differential solution. | VELOONE CARGO 2.0 will have better handling and stability. |
| Electric system | 2 hub motors 250 W power each. Electric drive assistance system, restricted to 250 W total power. Two Li-ion 36 V 10.4 ah batteries. | 1 hub motor with 250 W power, with electric drive assistance system. Two Li-ion 36 10.4 ah batteries. | It will have only one hub motor, so it will meet EU requirements for electric power assistance system. But it will keep 2-battery system. |
| Dimensions | 316 cm length, 85 cm width with mirrors. Cargo box 150 cm long, 74 cm wide. | Up to 300 cm length. Up to 85 cm width with mirrors. Cargo box 130 cm long and 85-86 cm wide. | It will be shorter, so it will have better stability and better turning radius, better parking ability. |
| Wind shield and top roof | Made of PET-G plastic, up to 65 cm wide. | Made of PET-G plastic, up to 85 cm wide. Top roof should be longer, so it would cover top line of the front wind shield. | VELOONE CARGO 2.0 will have bigger wind and rain covers, so it will let the driver to stay dry longer and comfortable under bad weather conditions. Front wind shield can be removed in nice weather. |
| Chain transmission system | 3 front speeds and 7 rear speeds. | 1 or 2 front speeds and 9-11 rear speeds. Or it will be around same 3 front speeds and 7-9 rear speeds. | During the test we've noticed that it is enough to have one front speed. We still want to keep a possibility of making a very fast velomobile. This system will be defined by client's needs. |